Round 2: Knockhill - 15th May 2011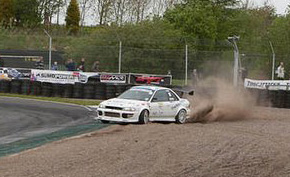 The second round of Time Attack 2011 took place at Knockhill Racing Circuit on 15th May. I had managed to secure entry as Gary Searls 'substitute' for the round, as he had suffered engine damage at Oulton Park. This meant I was a points scoring entry rather than a conventional O.H.W. (One Hit Wonder)...It also meant I could potentially collect a trophy! A very tall order!

We ran a TrackScotland full day trackday on the 14th so I got a good chance to blow the cobwebs off the car and myself. I hadn't driven the car for 4 months, or Knockhill since the 'sausages' had been introduced at the corners and this was my first time on the new Pirelli control tyres. The day seemed to go well and I managed to pick up a few worthwhile tips from the TrackScotland ARDS instructor, Hamish Smart ( www.thegloveboxguide.com ). Maybe I took his advice too far at times by taking the apex cones out of action to get a clear run on the next lap :P A quick mention is needed to thank James and Kev for lending a hand fixing my turbo (the clip holding the actuator arm to wastegate arm had fallen off)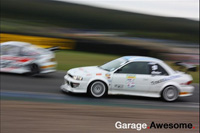 Sunday morning quickly came and it was time to finally get myself timed officially round Knockhil. After all, I cant let my wife be faster than me in a race car! I had initially set myself a target of a low 58, high 57 lap. Going by the rough timing that was done on the Saturday this would be a challenge. The car was given a quick once over and tyres kicked before the Time Attack sign on and briefing.

Warm-up: I always tell Fee to take it easy in this session! 'No point setting your fastest time when it doesn't count'. Well, that wentout the window and out I went out all guns blazing and set my fastest time of the day in warm-up. This was probably my most composed session, giving a 59.7s lap and 2nd place in Club Class. A great result from the outside but I knew I was pushing hard...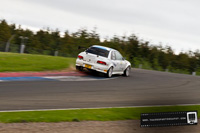 Practice: A session to forget! On my first hot lap I came across a snoozing Romain Levesque in his CRX. This ruined the lap (that was quicker than any previous to that point) and turned the rest of the session into a rally cross! I was sideways through McIntyres, keeping the foot down in 3rd all the way round into and out of the gravel. Airborne over the raised kerbs a few times and finally off on the in-field at the hairpin after trying to take it flat out from turn-in to exit in the damp! My driving is too aggressive at the best of times but this was beyond that.... My best time was a 1:00.2.


Qualifying: I'd managed to calm down by this point but the car was definitely starting to feel a bit laboured on the straights (viewing data logs afterwards show that I was braking much later than previous trackdays but my VMAX speed was down by around 8mph to 111mph at the braking point for Duffus). Seeing your competitors disappear over the brow of the hill on the start/finish straight when you've just exited the hairpin together is a bit depressing! My first hot lap of the session was my quickest as the track got pretty slippy towards the end with the drizzle and cold temperatures. The entry into Duffus was especially greasy, so good knowledge to pass on to Fee who was sitting in the pits getting ready for her Club Pro qualifying session. I also had another meeting with CRX. We were both on Hot Laps but very different pace on the corners. I must have been about 10cm from his bumper around Carlube but he didn't hold me up too much :) My fastest lap was a 59.9.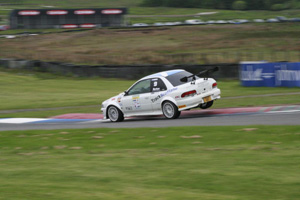 Final: At this point I was under no illusions about getting a trophy or decent points for Gary! There was no way that I could make up the power deficit to the other cars :( I think even when the Impreza was mapped at 370bhp it would be less than half the power of some of the others, never mind the state it was in by the final! Still, I tried my best and stayed as committed as possible through the corners to try and claw some time back. Sadly it wasn't enough and I had to settle for 7th with a 59.9 lap.


Despite the car issues I had a great day. I didn't find the Pirelli P Zero Rosso control tyres too bad, they were actually quite good fun to drive on with the revised geometry setup that Wallace Performance did a few days before. Nice and controllable slides, but braking is probably the biggest issue with the tyres. I was being a bit 'gay' on the brakes into the hairpin and really struggling to get the car slowed down enough for the turn-in to McIntyres. Congratulations to Fee for winning the Club Pro class at Round 2, but I'm still sure I'm faster than you...


Adam - Club Class #9
Media Coverage....
Official Time Attack Website - http://www.timeattack.co.uk/2011/page.php?a=1&s=229&p=229
Racing Exposure - http://www.racingexposure.com/blog/2011/05/renshaw-takes-pro-class-honours-at-knockhill/
Garage Awesome - http://garageawesome.com/2011/05/17/event-time-attack-round-2-club-challenge-class-knockhill/

Thanks to Rich Sams, John Stewart and Thacko for the pictures.