Round 1: Oulton Park, Island Circuit - 16th April 2011
After a long 6 month winter break, the 2011 Time Attack season started on Saturday 16th April at Oulton Park. The Skyline had undergone an array of changes over its hibernation period, including an engine refresh, uprated cams, new rear differential, new BC ER Series suspension, new bushes, new ARBs, new Custom Cages full weld in cage, and new 18" wheels. As if that wasn't enough change to get used to, Pirelli were announced as the new control tyre and the competitors were to run full road tyres for the 2011 series, rather than the cut slicks that we had all become so accustomed to. For the 2011 series I had also been moved up to the Club Pro class so was going to be out with 'the big boys'!

With practically a whole new car to get to grips with, I jumped at the chance to book onto the full day trackday the day before the event to get some much needed testing and practice in the bag. The morning was spent playing around with the new suspension to get a set up I felt comfortable with. It wasn't until late in the afternoon, when I turned the boost up, that I realised there was a problem. The car was hesitating on high boost. Some tinkering was done by the Wallace Performance crew before parking the car for the night in the hope that the issue was fixed. Race day dawned and luckily the skies were blue (after 2009 I do not like Oulton in the wet!)

I spent the warm up session running the car on high boost to check if the problem from the day before was still lurking. Unfortunately it was - full power was out unless I could get it fixed. My 1.38.960 time was good for 2nd in class, but a whole 3 seconds behind the leader, Warren Kelly, in his Escort.
The second session of the morning, Practice, was spent adjusting the boost to see how high it could be run without the problem rearing its head again. Luckily 1.5bar seemed to be safe enough, so that would have to do for the day. Again, I finished second in class to Warren, with a time of 1.38.826. Knowing that I had achieved a 1.35.1 in 2010 I was determined to go faster.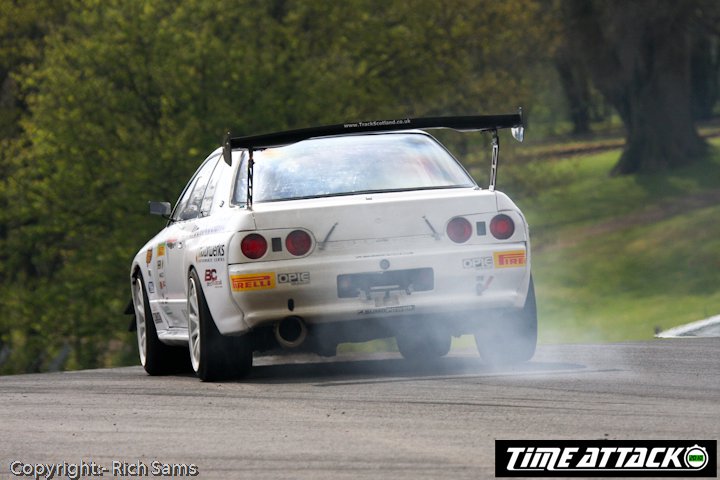 After my competitors' lunch and some digs about sandbagging all morning I got my wheels changed over to run my shaved tyres for the qualifying session. This is where the times start to matter! First out of the pits (as always) I was hoping to get a fast lap in early. This was obviously not meant to be as I drove off the track at Old Hall compromising my lap (this seems to be a common detour of mine!!!) The car felt horrendous for the whole session: sideways into and out of all corners and locking under braking. My times were deteriorating, ending the session with a 1.40, and a knock to my confidence.
Luckily for me, Superman (aka John Felstead) arrived right on cue and started to give me firstly advice on my suspension set up. The TDI North garage was then kind enough to lend me their laser alignment equipment so that I could change the geometry as suggested. As it turns out, my geometry settings were all over the place. With my wheels pointing in different directions no wonder I was struggling to keep the car in a straight line (nothing to do with my driving skills after all!)

I changed back onto the standard tyres and lined up for the final. It was like I was driving a different car... my car from 2010! The difference from the qualifying session was staggering - I could actually control it again (if only I could have run full boost too rather than my measly 1.5bar!) I set a time of 1.37.835 on my second lap, but was knocked off the top spot by both David Jackson (with a 1.36.850) and Walter Morris (with a 1.37.570), both on their final laps. Ouch!


With all the day's problems, any step on the podium was an achievement! With so many competitors having terminal problems throughout the day, just finishing was a relief. Onwards and upwards and ready for Round 2 at my home circuit, Knockhill!




Massive thanks to John for all his advice before the final, to the Wallace Performance guys (including Mike who changed my wheels - I don't think he even does that on his own car!), TDI North for kindly helping out a fellow competitor and my pit crew for the day.


Fee - Club Pro Class #1




Media Coverage....
Official Time Attack Website - http://timeattack.co.uk/2011/page.php?a=1&s=200&p=200
Racing Exposure - http://www.racingexposure.com/blog/2011/04/graham-triumphs-in-pro-class-debut/
RaceCar.com - http://www.racecar.com/Motorsport/News/Graham-sets-the-pace-in-Time-Attack-season-opener/40723.htm

Speed Hunters - http://speedhunters.com/archive/2011/04/20/event-gt-gt-time-attack-series-round-one-pt-ii.aspx