Round 4: Cadwell Park - 1st August 2010
Cadwell Park was the second track of the 2010 season that I had to learn from scratch. As it was the first time Time Attack had been to Cadwell I knew there would be a few other competitors in the same position so I tried not to let it phase me. Unfortunately I didn't get in quick enough for a space on the trackday the day before and only managed to squeeze in one hour of practice (intense learning!) at the end of the day. It is such a long track with so many corners that I had to make sure I got the hang of it all quickly in the warm up and practice sessions.
After an amazing Jacuzzi bath and night sleep in my fancy hotel I was ready for the warm up. I had new tyres to scrub in and knew to take it easy in the session after sliding all over the place at Knockhill. I was out behind Gerry Atkinson in his Audi and ended up completely sideways on approach to the mountain...I was sure Gordon Wright was going to come flying into the side of me but luckily I managed to straighten it up in time. Turns out Gerry had leaked power steering fluid over the track. My quickest lap was a 1.45.051...not nearly fast enough and time to push a bit harder.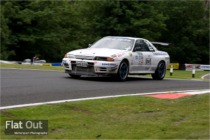 Practice came around quickly and I knew I needed to pick up the pace. My first two laps seemed good, a 1.43.225 and a 1.42.141. Getting quicker but still 1 second off Scott Robson's warm up time. A cool down lap and then try again. I ended up behind David Coe in his Impreza and unfortunately the red mist came down and I temporarily forgot it wasn't a race! I followed him round for a lap and half, and nearly ran into the back of him on the crest of the mountain, and then eventually common sense kicked in and I eased off to find some track space to try to get in another hot lap. I managed a 1.42.989 on my last lap. Must go faster!
The clever minds that run Time Attack decided to split the qualifying into four groups to help as all try to get some track space to put in a hot lap or two. I was out in the first session and was hoping to get behind Scott to try to keep up with his pace. No such luck though. I think he knew my game and was hiding from me! Someone in the previous session had spilt oil on the track right from the pit exit round Coppice and Charlies bends. I knew it wouldn't be easy to get a fast lap in early. I was pushing harder, maybe a bit too hard since I had a bit of a moment through hall bends and took out three of the bollards, one of my carbon canards and an indicator lense! My fastest time was a 1.41.692, 5th place in qualifying so a valuable 1 point.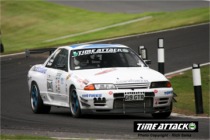 There was a long brake in between the qualifying a final session and it was dragging. Once out on trakc I did a couple of hot laps at the start but couldn't get quicker than a 1.42. I knew it wasn't good enough so after a cool down lap went for it again. The lap was feeling much more composed and my confidence was building (finally). Up over the mountain...and there was bloody Scott Robson, the bugger! I managed to squeeze past him through Hall Bends and finished the lap on a 1.40.821. That was it, time was up and I just hoped for the best. I went to check the times with Wendy and I was sitting 3rd in class. Great... until I noticed Walter Morris out in the B group final. I had to keep my fingers crossed that he didn't beat my time. My luck seemed to be in, up until his last lap...1.40.815. NOOOOO! Beaten by 0.006s and knocked off the podium!

I guess you can't win them all!
Congratulations to Scott (1st Place), Matthias on your first podium (2nd Place) ...you really were a nutter all day and it was definitely deserved and Walter (3rd Place)
After Cadwell, Scott has managed to knock me off first place. I'm not going down without a fight. See you at Snetterton!


Fee - Club Class #7