Round 3: Brands Hatch - 27th June 2010
Well, the Brands curse has finally been broken! 3 years, 4 engines and an 11 hour drive later, I arrived at Brands Hatch racing circuit! Thank god!
Having never been to Brands before, I decided to do a testing day a couple of days before the main event to try to learn the track a bit. Come race morning and the first warm up session, I was still learning! At least the car was still working, despite a few random small oil drips. The track was hot and I couldn't seem to pick up the pace. My fastest time was a 55.753. I knew I would have to go a lot faster to be in with a chance, but wasn't feeling confident. After a pep talk from Adam from Russia, and some track tips from Shane Smith (Club Pro competitor) I was ready to go out for the practice session.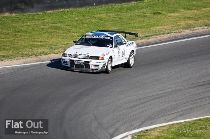 The track was getting hotter, as was the driver! My tyres were going off after just a lap and I was 4 wheel drifting in and out of most of the corners! I managed a 54.799, placing me 6th overall and 2nd in class...just behind Scott Robson. I was feeling more confident and it was time to get the wrecked tyres off and a better set on for the qualifying session.

Scott and I parked up in the pit lane early to get out on track first so we could get our hot laps in at the start. Our plan backfired though, as by the time we got back round to the pit straight, there were still cars coming out of the pits and straight onto Paddock Hill bend. I still managed to get a 54.184 on my first hot lap though, which was a relief. Later in the session I managed to get behind Steve Linton in his crazy quick Supra and followed him around the track to get a 54.144. Even better! Scott beat me to first place with a 53.912, but still 4 points in the bag!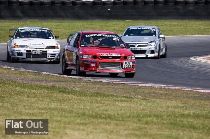 Time dragged up to the final session. I was ready to get out there and give it my all, but had to sit patiently until it was eventually time. I was out first and keen to get my fastest lap in straight away as I knew the tyres and brakes weren't going to last long in the heat. I maybe went a bit too gung ho and had a bit of a 'moment' at Graham Hill Bend. Apologies to Walter who was behind me! The next lap had to be better...and it was 53.659! My quickest lap of the day. I did a few cool down laps and attempted another couple hot laps, but my times were getting slower and my tyres were worse. Another few cool down laps and into the pits. I knew by that point that I just was not going to go any faster and decided to call it a day and hope for the best. Russ (Wallace Performance) sent me out for another couple of cool down laps as my brakes were smoking and then I parked it up and kept my fingers crossed that no one managed to a faster lap in the last few minutes. Thankfully they didn't and my time was good enough for 2nd place in my class. Well done Warren Kelly on your 1st place, and Scott Robson on 3rd place, it was SO close!

I'm so glad I finally made it down to Brands Hatch after all this time, and it makes it even more worthwhile coming home with a 2nd place trophy! What an epic weekend!


Fee - Club Class #7
Media Coverage....
Official Time Attack Website - http://www.timeattack.co.uk/index.php/2010/06/28/guglielmi-brings-lloyds-run-to-an-end/
Racing Exposure - http://www.racingexposure.com/blog/2010/07/guglielmi-turns-up-the-heat-at-brands-hatch/
Thanks to Rich Sams and John Stewart for the pictures.