Round 2: Knockhill - 16th May 2010
I arrived at Knockhill on Saturday afternoon to drop the car off and have a nosey around the paddock. I wasn't booked on for the track session, so it was a good opportunity to watch and suss out the competition! I won't be watching again...it wasn't nearly as much fun!
Sunday morning soon arrived and it was dry and sunny at Knockhill for a change! The car was ready to go, I just had to keep my fingers crossed that the crunching gearbox held up. My plan was to take it easy for the first couple of sessions, scrub in the new tyres, bed in the new brake pads and make sure everything was running ok. I was all over the place on my first few laps in the warm up! Walter Morris who came out behind me must have been wondering what the hell I was doing...going sideways in and out of corners on the warm up lap! The new tyres were very slippy and I just couldn't get heat into them! I couldn't get my times down to under 1 minute. I came into the pits to get everything checked over and then headed back out again for another bash. This time round the tyres felt a lot better...and I was actually managing to stay pointing in the right direction! I got a 58s lap, which was good enough for me during the warm up. I came in happy with that and confident I could still go a bit quicker. The time sheet showed me in first place after the warm up with a 58.093....which I was a bit surprised with considering I thought I was taking it easy...but there were a few fast people out there that weren't showing on the list. Still, I had already beaten my time from 2009 in the first session of the day.

I changed over to my older set of tyres for the practice session. Bo Neilson came out behind me and I did not want a repeat of my performance at Oulton! My first hot lap was a 57.551.... getting quicker, and then I clocked a 56.220 on my second hot lap. That was good enough for me! I came into the pits and was told to go back out to do a few more cool down laps! After that, I decided to come in and sit the rest of the session out. I had gone as fast as I felt I needed to for the practice and didn't want to run unnecessarily on a dodgy gearbox! I watched the rest of the competitors finish the session and fortunately no one in the 4WD class managed to get a quicker time...only Steve Linton in his super fast RWD Supra. Scott Robson got a 56.290....so close! He was going to be a tough one to beat!

During the lunch break I got asked to do a wee Bike v Car demo on track. I jumped at the chance to get a bit more practice on a clear track and scrub my new tyres in a bit more before the qualifying session! Unfortunately the bike beat me I think the thought of getting beaten by a girl spurred him on a bit!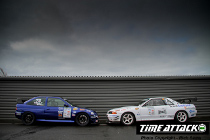 I got down to the pit lane early for the qualifying session so that I could get out on track first and get a couple of clear fast laps in early. I got a 56.165 in my 2nd hot lap, despite my seat shifting back a notch leaving me in a less than ideal driving position! I went into the pits to sort myself out again and then headed back out. I got one slow lap in and then the session was red flagged due to a spectator deciding to run across the track! When the session was restarted I got a few more laps in, but couldn't better my earlier time. I got in to find out that it was still good enough for first in my group, and 2nd overall in Club Class (that pesky Steve Linton beat me again!)

We had managed to convince the powers that be to split the final session so that the traffic on track would be reduced. I was out with the 10 fastest from 4WD and 2 from RWD. I got out on track first again (with Scott and Eric right behind me) and knew I would have to put in a fast time to get on the podium. Eric and Scott's times had been so close to mine all day. My plan was to do 3 hot laps followed by 3 cool laps and then see how my tyres were holding up. Adam told me I was not allowed back in the pits until I got a 55.5s lap. Impossible I thought! My first three laps felt good...56.082, 57.107 and 56.191...so close to a 55! After my cool down laps I ended up behind Steve's Supra and decided to chase him round the track! The lap felt good, a lot more refined than some of my earlier ones! I crossed the line and my timer showed up a 55.5! YES!!!! (I really did scream that out!) I came into the pits going mad! I didn't care what anyone else was doing....I got a 55.5!!!! Adam sent me out again, but my gears were crunching constantly in every gear so I just decided to call it a day and hope that my time was good enough.

My official time was a 55.431...amazing, even if I do say so myself! It was good enough for an outright win in Club Challenge. I was/am over the moon with it! Getting my first win at my home circuit was an awesome feeling. I was grinning like a cheshire cat, screeching a lot and jumping around like a mad woman! I even managed to pop my champagne all on my own this time!!! Well done to Scott and Eric on their 2nd and 3rd places.

Brands Hatch is next in the calendar. Having never done the track before, it's going to be tough. It's a few weeks off yet though, so I'm just going to continue grinning from my win for now!


Fee - Club Class #7
Media Coverage....
Official Time Attack Website - http://www.timeattack.co.uk/index.php/2010/05/17/two-in-a-row-for-lloyd/
Racing Exposure - http://www.racingexposure.com/blog/2010/05/kindness-shines-at-knockhill/
Thanks to Rich Sams and John Stewart for the pictures.