Round 1: Oulton Park, Island Circuit - 24th April 2010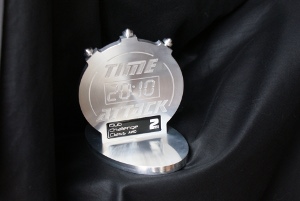 Having crashed at Oulton Park in 2009, I was unsure about how the first race of the season would pan out. Luckily the forecast for the weekend was dry and the trackday before the event helped to ease my nerves. I felt out of practice, having only been on track once this year, and was still getting used to the new engine.

The day of the race arrived and Adam had me up at the crack of dawn as usual! With the briefing, last minute sticker applying and bacon roll out of the way it was time to get out on track for the warm up. I took it quite easy, checking that everything was ok with the car and making sure I stayed on the black stuff this time (or so I thought, but then got a telling off for running wide at the exit of Island Hairpin)! I got back into the pits where Adam told me I got a 1.40.637, already quicker than my times for the last two years. Scott Robson had set the quickest time with a 1.35.670...I had to somehow lose 5 seconds to be in with a chance.

The practice session arrived and I had convinced Scott to let me follow him out so that I could try to match his pace and cut my time. I perhaps followed him a bit too closely, both of us going off the track at Old Hall corner! I'm sure he was a bad influence on me at Snetterton last year as well! The session felt noticeably quicker, my leg was shaking with the adrenaline! When I got back to the pits a very smiley Adam told me that I had come first in my class having slashed my time down to 1.35.150, just beating Scott with a 1.35.369. He said that I was not allowed to follow him for the remaining sessions!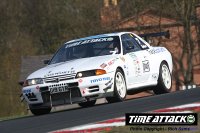 The break between practice and qualifying felt like an eternity, especially since it was delayed after the truck demo guys crashed into each other on the circuit. Scott and I were lined up together, but he buggered off to the toilet and missed the start of the session! This time I knew the pace that I had to keep up. I had three year old tyres on for the session that went off after just one hot lap so I was feeling tense about setting a fast time. Adam had been drilling into me the importance of getting points in the qualifying so I had to get a decent finishing position. Something must have worked, I managed a 1.35.210...first in my class again, and 5 valuable points. I was raring to get out in the final!

The final was a challenge! I had lined up to get out on track first, since my first laps were usually my fastest and then the tyres would give up. Bo Neilson in his speedy Astra passed me as I was warming up my tyres. In my head I had to get back past him to get an early hot lap in. I overtook him on the pit straight, and left my braking a bit too late and turned into the corner too early....sending me off the track at Old Hall...again! Bo took back the leading place and I was left chasing him round the track again for two laps. In hindsight, I should have backed off to leave a gap between the two of us from the start so that I had a clear track ahead of me, but the red mist came down and my brain shut off! Having done two hot laps (which I knew were off the pace) I had to do a couple of cool down laps to let the tyres recover and had thought that I had blown any chance of a podium. I had the time to squeeze in another two hot laps into the session, but the track was full of traffic slowing me down and the tyres were way past their best. At the end of the session I came back into the pits resigned to the fact that I hadn't done enough for a podium finish. I saw Adam go straight to Scott to tell him he had won. He finally came over to me to let me know I had came second. I still have no idea how! My time was 1.35.773.

Finally I got to stand on the podium...and better yet, got the trophy that Rob Barnes has been promising me for years! After crashing on the same track last year, it felt great to be standing up on that step! A big thanks to Andy Barnes for popping my champagne! Congratulations to Scott on his first place, I couldn't have come second to a better competitor!

Roll on Round Two!

Fee - Club Class #7

"A lot of people will also be happy to see Fiona Kindness take the second step on the podium in her R32 Skyline. Fiona had quite an unsettling off at Oulton Park in 2009, so to come back with such vengeance shows a great strength of character" Time Attack Website


Media Coverage....
Official Time Attack Website - http://www.timeattack.co.uk/index.php/2010/04/25/lloyd-leads-the-charge-at-oulton-park/
Racing Exposure - http://www.racingexposure.com/blog/2010/04/time-attack-round-1-oulton-park/