Round 1: Oulton Park, Island Circuit - 26th April 2009
According to the Time Attack website, round 1 arrived with a bang…and it certainly did for me!
After a day of practice and getting to grips with the car's new power on the Saturday, I arrived at the track on the morning of round 1 feeling fairly confident and ready to race.
The warm up session was short and dry, and I was happy to finish with 5th place.
The practice session did not bode so well. It was wet, something that doesn't normally faze me. I was out first behind the safety car for the two parade laps and planned on getting in a fast lap straight away once it had gone back into the pits. The track was slippy with a lot of standing water. The car just seemed to slip off the circuit coming out of Cascades (heavy right foot!) and the wet grass sent me careering towards the tyre wall! I think the photos and videos say it all!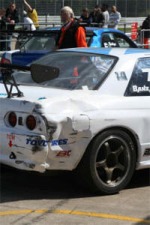 After a quick check over at the medical centre, Adam had me back to work on the car getting it ready for the qualifying session. Most of the damage was suffered on the O/S rear quarter and boot skin. Some delicate touches with a hammer, liberal duck taping, and help from the Wallace Performance guys got the car ready to go again!
There were unnoticed problems caused by the crash though, which included boost pipes blowing off due to them being moved slightly during the crash. This meant a premature end to the qualifying session for me.
Further problems were encountered in the final….the radiator top pipe had been cracked in the crash and blew the top hose off, spraying coolant all over my windscreen, and again ending the session early. The laps I did get in managed to get me a 15th place overall, 9th in class. Not too shabby!
Things can only get better?!?
Fee - Club Class #7