andybell
established user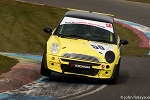 Joined: 16 May 2013
Posts: 1267



ah the old 'driving about in 3rd gear whilst safety car is on, not able to notice lights going out everyone shoots away you frantically hit the accelerator realising its a mini and not a , you know, car with power. You quickly drop it down to second gear in a fervour and realise everyone is already miles away time you will not get back. You shed a tear and curse to yourself and say it will not happen again'

short version right up the ass of person in front 100% of time :p
_________________
http://www.youtube.com/user/andybalcairn/ to see how bad I drive!!!